Car ads broke the law — again
August 18, 2016
You've seen the ads — car dealers hyping big discounts, low prices and low monthly payments, and great financing deals.
Ads about good deals on cars? Not a problem. Leaving out important details about how you qualify for those deals? That's a problem. By law, dealers' ads must clearly disclose any "catches" — like if getting that low monthly payment requires money up-front, or if a deal is limited to people who qualify for low financing rates.
That's the issue behind the FTC's new settlement with Dallas-area Southwest Kia dealers. Despite settling charges for deceptive ads with the FTC in 2014, the three jointly owned dealers continued to avoid disclosing important information. For example: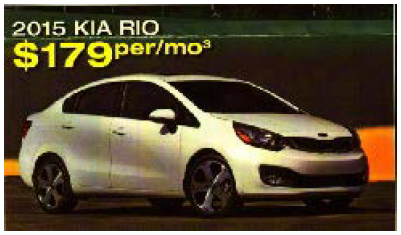 What's the issue with this direct mail ad? Some important terms are buried in almost illegible fine print. To get that $179 per month payment, you'd have to pay $1,999 (plus tax, title, and license fees) up-front. And at the end of the 38-month financing term, the car wouldn't be paid off — you'd still owe a balloon payment of more than $8,000.
Bottom line: car dealers need to be clear about their deals, and what it takes to get them. 
If you get to the dealer and the deal disappears, that's your sign to walk away. For more on what to watch for — and what questions to ask — read Are Car Ads Taking You for a Ride?, and check out this infographic.