Do population changes mean changes in fraud?
November 8, 2016
The U.S. population is getting older and more diverse.  Who are the consumers of the future? How will scammers try to trick them?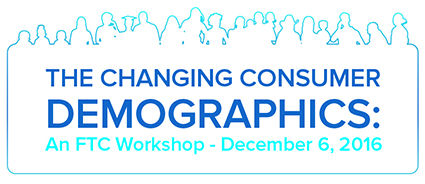 On December 6, 2016, consumer groups, advocates, researchers, marketers, and government agencies will gather to explore the demographic changes expected in different communities, and discuss the impact of these changes in the marketplace.  Understanding how these communities are changing is important to combatting scams.  What can the government and consumer advocates do to prepare for the challenges ahead?  At the Changing Consumer Demographics Workshop we will explore these and other questions.
Mark your calendar to join us on December 6. The workshop is free and open to the public, and will be available via live webcast.  Watch this space, or check out the workshop page for more details and the complete agenda, which will be available soon.