Amazon offers refunds for unauthorized in-app charges
May 30, 2017
Amazon will make up to $70 million in refunds available to customers who were charged for unauthorized in-app purchases made by a child.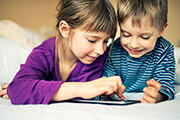 You may be eligible for a refund from Amazon if you were billed for unauthorized charges made by a child, and the charges were for in-app purchases made between November 2011 and May 2016.
If you're eligible for a refund, you should have received an email from Amazon on May 26, 2017 with instructions on how to request your refund. You also can:
go to Amazon.com, choose Your Account then go to Message center. If you're eligible for a refund, you'll find more information under Important Messages.
The deadline to request your refund is May 26, 2018. Amazon is managing the refund process so if you do request a refund, you'll have to check with Amazon to find out the status.
You can learn more about the FTC's action against Amazon at ftc.gov. To learn more about kids' apps, check out Understanding Mobile Apps.