FAFSA® student aid filings begin October 1
September 29, 2017
If you're a high school or college student, or their parent, it's nearly time for the 2018-19 Free Application for Federal Student Aid (FAFSA®) form, which becomes available October 1, 2017.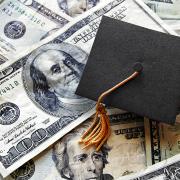 Completing the FAFSA form is free, and it gives you access to the largest source of financial aid to pay for college or career school. Submit your FAFSA form as soon as you can. Many states and schools allocate funds on a first-come, first-served basis. And some states have deadlines for filing the FAFSA form to be eligible for certain kinds of state aid.
There's no need to wait until your family has filed their income taxes to submit your FAFSA form. The 2018–19 form requires 2016 tax information. You may be able to transfer your tax information directly from the Internal Revenue Service (IRS) by using the IRS Data Retrieval Tool. The tool returns for the FAFSA form October 1.
While you're at it, remember never to share your FSA ID (it's what you use to log in to fill out your FAFSA form). And watch for scholarship and financial aid scams. Ads or offers from companies may claim they can get you financial aid, including grants, student loans, work-study and other types of aid. For a processing fee, they say they'll handle all the paperwork. But the only way to get access to all that aid is by filling out your FAFSA form. And that's free.
If you hear from companies or see offers that say they'll process your FAFSA for a fee, stop. You can find all the help you need – for free – at fafsa.gov. File your FAFSA form online (again, for free). Need more help? Visit StudentAid.gov or call the Federal Student Aid Information Center at 1-800-4-FED-AID (1-800-433-3243; TTY for the deaf or hard of hearing 1-800-730-8913).