Copycat recruiting sites?
September 6, 2018
Servicemembers understand the serious responsibility of enlisting in the armed forces. But some companies may try to take advantage. If you or a loved one is visiting military recruiting websites to research or enlist, don't get the wrong impression. Double check that the military recruiting sites you land on are official websites of the U.S. Armed Forces, not ones in disguise made to collect, and sell, your personal information.
According to a settlement just announced by the FTC, Sunkey Publishing, Inc., Fanmail.com, LLC, and associated companies ran online ads and websites like army.com and airforceenlist.com. These sites and ads looked like official military recruiting channels. But they weren't. The FTC says people were tricked into thinking the information they shared would be used only for recruiting purposes. Instead, the companies sold people's information to post-secondary schools as marketing leads. Even though these websites said they wouldn't share people's personal information. What's more? The FTC says that Sunkey then used the numbers people shared to call them – pretending to be military reps and pitching post-secondary schools as though the schools were endorsed by the U.S. military. Which they weren't.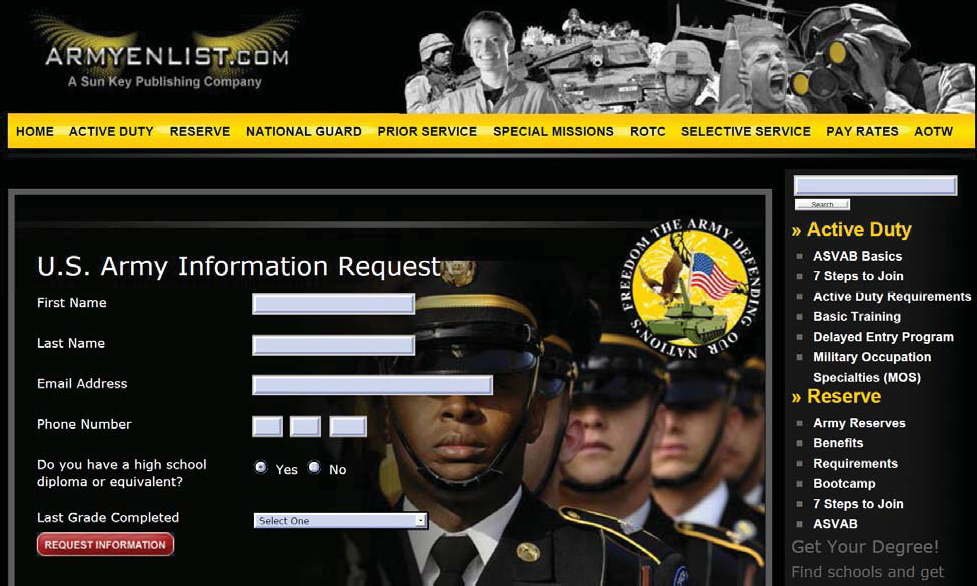 As a result of the FTC settlement, the defendants must, among other things, turn over control of the domain names in question and tell consumers that their websites are not official recruiting websites of the U.S. Armed Forces – nor are they endorsed by or affiliated with any branch of the U.S. military. The settlement also prevents them from using military recruitment as a means to sell or market other products or services. Before collecting certain information, the companies also must ask consumers to acknowledge that they understand that these websites are not official military recruiting sites, and that they understand they're not submitting their information directly to the military. The FTC also says that the companies must stop selling or transferring consumer's personal information without their consent.
To get to the official recruiting sites of the U.S. Armed Forces, start with this site from the Department of Defense. If an online search takes you to other sites, research them before you fill out online forms or applications. Search the site name online, plus words like "complaint" or "review." For more information about where your information goes, read more about how companies get your info.
Have you had an experience with a company like this? Tell the FTC.