Notarios are no help with immigration
September 26, 2019
Now and then, it's helpful to remind ourselves of things we already know: Nobody legit will ever demand payment with a gift card. Dark chocolate is superior to milk chocolate. And notarios do not give legal help with immigration.
If you, or someone you know, is trying to sort out immigration issues, go straight to an immigration lawyer and skip the notarios. They're not lawyers, and cannot help with immigration. Instead, time after time, we see stories of notarios who take people's money and documents, make big promises, and then do nothing. Often, they hurt your chances of immigrating lawfully while they disappear with your papers and cash.
How Pedro and Miriam Learned About Notario Fraud is a graphic novel that shows some of the ways people get scammed while seeking immigration help. It also shows where people can go for real help. You can also read the fotonovela in Spanish here – and order free copies to share in your community.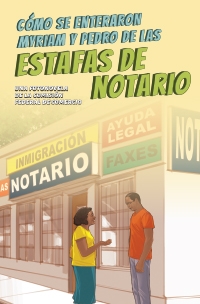 One lesson from Pedro and Miriam is this: there are lawyers and people known as "accredited representatives" who can give real help with immigration. (You can find them at this Department of Justice site.)  But none of them are notarios. Please spread the word.
If you spot a scammer pretending to be able to help with immigration – or if you spot a Diversity Visa scam, also known as Green Card Lottery scam – please tell us at ftc.gov/complaint. You can report these scammers anonymously, or ask your immigration attorney to report it themselves or in the name of their law firm or agency.