Celebrating Older Americans Month
May 10, 2021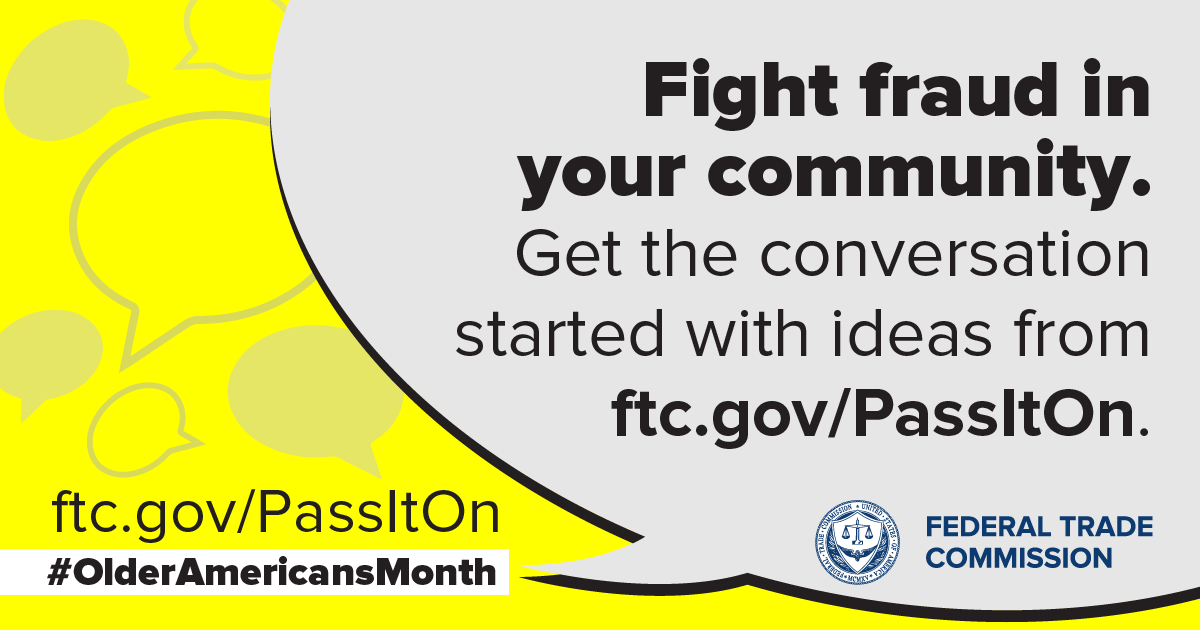 During May, the FTC and federal and state organizations nationwide will celebrate Older Americans Month, with "Communities of Strength" as its theme. The FTC works to protect older adults year round, through law enforcement actions and the Pass It On fraud prevention campaign. Pass It On encourages people to share what they know to protect someone from a fraud, and to be a resource that others can turn to. This week, we'll share some of what we know through a series of blogs about scams affecting older adults. We hope you'll share these blogs in your community. You can link, forward, print, or copy all FTC content freely. And if you're on social media, share this graphic through your network.
The FTC has taken several recent enforcement actions to protect older adults. For example, it's sued companies that tried to trick people into work-at-home and other moneymaking schemes, bogus credit card interest rate reduction offers, and health claims that aren't supported by the necessary science. Some of those claims were related to the COVID-19 pandemic.
While scammers are busy, Pass It On gives older adults and the people who work with them tools to fight those frauds. The campaign's fact sheets explain 13 fraud topics, including grandchild and romance scams, unwanted calls, and work-at-home scams. The campaign leverages the rich experience and accumulated knowledge of older adults, and gives them information they can pass on to family and friends, starting conversations and sharing their expertise.
Thank you for being part of our readers' community, and for sharing information — whether it's a way to avoid a scam or your story about an unwanted phone call — to protect the people around you. If you spot a scam, please tell the FTC at ReportFraud.ftc.gov.